Start of content
The Honourable Diane Lebouthillier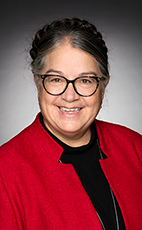 Overview
Political Affiliation:

Liberal

Constituency:

Province / Territory:

Quebec

Preferred Language:

French
Expenditures Report
For more information on the expenditures incurred by members in the discharge of their parliamentary functions, see the
Summary of Expenditures
for Members.
Current Roles
Member of Parliament
Gaspésie—Les Îles-de-la-Madeleine, Quebec
Offices and Roles as a Parliamentarian
Minister of Fisheries, Oceans and the Canadian Coast Guard
All Roles
Recent Work
Explore this member's most recent work in the current session of Parliament.
Contact Details
Email
diane.lebouthillier@parl.gc.ca
Website
http://dianelebouthillier.libparl.ca/?lang=en
Hill Office
House of Commons *
Ottawa, Ontario,
Canada
K1A 0A6
Telephone: 613-992-6188
Fax: 613-992-6194
* Mail may be sent postage-free to any member of Parliament.
Constituency Offices
Main office - Grande-Rivière
153 La Grande Allée East
Suite 104
Grande-Rivière, Quebec
G0C 1V0

Telephone: 418-385-4264
Fax: 418-385-4276

Cap-aux-Meules
350 Principal Road
Suite 101
Cap-aux-Meules, Quebec
G4T 1C9

Telephone: 418-986-1489
Fax: 418-986-2096

Ste-Anne-Des-Monts
464 Ste-Anne Blvd West
Suite 27
Ste-Anne-Des-Monts, Quebec
G4V 1T5

Telephone: 418-764-2890
Fax: 418-763-0067

New Richmond
99 Suzanne-Guité Place
Room 211
New Richmond, Quebec
G0C 2B0

Telephone: 581-355-0060